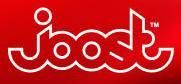 De online tv-dienst Joost heeft de trijd met Youtube en Hulu opgegeven.

"We will start to focus on providing white label online video platforms for media companies, including cable and satellite providers, broadcasters and video aggregators". Zo maakte het bedrijf gisteren bekend. Het bedrijf trekt zich terug uit Leiden "the company's original base of operations" en zal met een kernteam gaan opereren vanuit Londen en  New York. Volgens Advertising Age blijft er een man of 20 in dienst van de totaal 90 werknemers.

Aftredend CEO Mike Volpi zegt dat het alles te maken heeft met de economische crisis. "In these tough economic times, it's been increasingly challenging to operate as an independent, ad-supported online-video platform."
Jeroen de Hooge
Jeroen is Managing Director van The Blogidea Factory, de online uitgever van ondermeer Dutchcowboys, Stylecowboys, Carrepublic & Eatly. Daarnaast is hij...