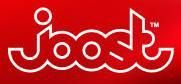 Joost en Netlog werken voortaan samen. Daardoor zijn de beste tv-shows en muziekvideo's rechtstreeks te zien op Netlog en Joost vergroot hiermee het bereik met zo'n 40 miljoen Netlog gebruikers.

"Friend-to-friend recommendations have always had a powerful influence, particularly on the movies and TV shows our members watch," Aldus Toon Coppens, CTO en mede-oprichter van Netlog.

"Netlog's innovation in social interaction makes them a great partner for Joost," zo laat Stacey Seltzer, SVP of Business Development voor Joost weten. "Social interaction and community has always been important to video viewing in an offline world, and Joost is committed to bringing that experience online."
Jeroen de Hooge
Jeroen is Managing Director van The Blogidea Factory, de online uitgever van ondermeer Dutchcowboys, Stylecowboys, Carrepublic & Eatly. Daarnaast is hij...