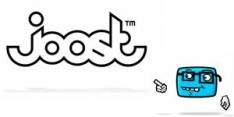 Vorig jaar was er de lancering van Joost. Een peer-2-peer TV initiatief van de oprichters van Kazaa en Skype. Het duurde even voordat het voor iedereen toegankelijk was maar vervolgens bleek het toch lastig om gebruikers te vinden voor het model van gratis tv-kijken omringd door advertenties.

Blogger Marc van Venrooij riep het toen al: "Zou het niet makkelijker zijn om Joost niet te installeren maar gewoon in een browser te bekijken?"

Het heeft even geduurd maar dat lijkt Joost inderdaad wat makkelijker. Ze gaan een tweede poging wagen om de online kijker voor zich te winnen. De programmering van Joost is voortaan alleen nog maar in de browser te zien.
* We have moved to a Flash player. That means – at least for the vast majority of Internet users – we are now download-free. If you want to watch a video on Joost, you just have to type in www.joost.com.

* We've always been about a social video experience – and our new web-based version lets us provide a deeper social experience than we were able to in our Joost software. With our new social tools, we've come even closer to bridging this gap and bringing the inherently social nature of video into the online world.

* Content, content, content. Since January, we've doubled the number of videos on our site currently offer 46,000 professionally-produced videos and more than 8,000 hours of video entertainment. That doesn't mean that we're done getting new shows, music or film – we'll have some exciting new content to announce over the next few weeks – but we know that good content is important to you, and that remains our key priority.
Jeroen de Hooge
Jeroen is Managing Director van The Blogidea Factory, de online uitgever van ondermeer Dutchcowboys, Stylecowboys, Carrepublic & Eatly. Daarnaast is hij...