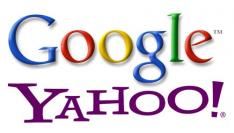 Google heeft een overeenkomst (non-exclusive advertising agreement) getekend met Yahoo. Yahoo mag nu gebruik maken van Google AdSense-technologie op haar websites in de Verenigde Staten en Canada.

Volgens experts zou deze deal Yahoo een bedrag tussen de 250 en 450 miljoen aan extra omzet per jaar opleveren.

Het volledige persbericht vind je hieronder.
Google (Nasdaq: GOOG) today announced that it has reached an agreement that gives Yahoo! the ability to use Google's search and contextual advertising technology through its AdSense(TM) for Search and AdSense for Content advertising programs.  Under the agreement, Yahoo! has the option to display Google ads alongside its own natural search results in the U.S. and Canada.  In addition, Yahoo! can serve contextually targeted ads on its U.S. and Canadian web properties as well as on its current publisher partner sites.  Yahoo will continue to operate its own search engine, web properties and advertising services.  
 
In addition, Yahoo! and Google agreed to enable interoperability between their respective instant messaging services bringing easier and broader communication to users. 
 
"This commercial agreement provides Yahoo! with the opportunity to deliver more relevant ads to users and provide advertisers and publishers with better advertising technology to help them succeed in their own businesses," said Eric Schmidt, Chairman and CEO of Google. "This agreement will preserve the competitive and dynamic online advertising space."
 
As a result of the agreement, Yahoo! will be able to complement its own advertising program  with Google's advertising technology. As a result, advertisers will be able to better reach consumers, and Yahoo! and its current publisher partners can generate more revenue.  Yahoo can use Google's advertising technology on as many or as few of its search result and content pages as it chooses.  
 
This non-exclusive agreement allows Yahoo! to enter into similar agreements with other advertising providers.  In addition, Yahoo! will maintain relationships with its own advertising customers and will continue to rely exclusively on its own advertising program outside of the U.S. and Canada.  The agreement has a term of up to ten years: a 4-year initial term and two 3-year renewals at Yahoo!'s option.  Financial terms between the two companies were not disclosed.
 
Although Google and Yahoo are not required to receive regulatory approval of the arrangement before implementing it, the companies have voluntarily agreed to delay implementation for up to three and a half months to give the U.S. Department of Justice time to review the arrangement.

About Google Inc. 
Google's innovative search technologies connect millions of people around the world with information every day. Founded in 1998 by Stanford Ph.D. students Larry Page and Sergey Brin, Google today is a top web property in all major global markets. Google's targeted advertising program provides businesses of all sizes with measurable results, while enhancing the overall web experience for users. Google is headquartered in Silicon Valley with offices throughout the Americas, Europe and Asia.
Henk de Hooge
Henk is Internet Entrepreneur, founder van Dutchcowboys en daarnaast tech en travelblogger, fotograaf, visual storyteller en bovenal een digitale nomade....