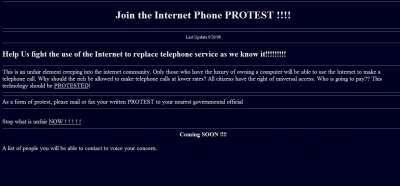 Zo zag iPhone.com er uit in 1999, een aantal jaar dus voordat het verkocht werd aan Apple.
Join the Internet Phone PROTEST !!!!
Help Us fight the use of the Internet to replace telephone service as we know it!!!!!!!!!
This is an unfair element creeping into the internet community. Only those who have the luxury of owning a computer will be able to use the Internet to make a telephone call. Why should the rich be allowed to make telephone calls at lower rates? All citizens have the right of universal access. Who is going to pay?? This technology should be PROTESTED!