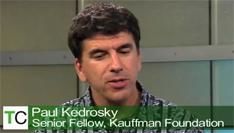 Cowboy Johan schreef woensdag al over keynote spreker Douglas Rushkoff op eDay 2010. Naast Douglas zijn er nog meer interessante nationale en internationale sprekers aanwezig, zoals Paul Kedrosky. Paul Kedrosky is een investeerder, schrijver, spreker en entrepreneur. Daarnaast werkt hij als analist bij NIBC, schrijft hij onder andere voor The Street en is auteur bij Infectuous Greed. Paul wordt regelmatig genoemd bij vooraanstaande publicaties wereldwijd. Op dit moment is Paul senior partner bij de Kauffman Foundation waar zijn focus ligt op entrepreneurship, innovatie en de toekomst van risico kapitaal. Hij heeft inmiddels meer dan 300 artikelen gepubliceerd in onder meer The Wall Street Journal, Harvard Business Review en The Economist.
Paul Kedrosky startte lang geleden een van de eerst gehoste blogging websites, genaamd GrokSoup. Hij is erg goed in het instappen in groeiende markten, voordat ze een enorme groei doormaken, en het op tijd verlaten van deze markten voordat het te veel geld gaat kosten. Een vaardigheid die niet veel mensen bezitten. Paul heeft een neusje voor groeiende markten en het inzichtelijk maken van kansen in deze markten.
Zo wordt Paul omschreven door zijn collega's: 'He is an active investor in public and private equities, despite having watched both sorts of sausages being made. That almost certainly represents, as Samuel Johnson once said about a man's second marriage, the triumph of hope over experience. Nevertheless, Dr. Kedrosky has more than fifty early-stage investments to his credit, and rather than brag in an unseemly way about his many successes he will continue to point to that "fifty" number. Fifty, fifty, etc. Dr. Kedrosky has a Ph.D. in the economics of technology (which he mostly uses when bluffing outside of poker), a master's degree in finance (which he mostly uses when bluffing in poker), and an undergraduate degree in engineering (which a professor once said he would take away, if he had the means).'
Op eDay zal Paul Kedrosky het publiek laten zien waar hij denkt, dat op dit moment de kansen liggen voor internetondernemers. Welke markten zijn interessant om in te investeren en welke producten of diensten gaan het goed doen op internet. Genoeg inspiratie dus!
Hieronder een interview van Techcrunch met Paul Kedrosky over 'de weddenschap die de wereld vernietigde'! Meer informatie en kaarten op de website van eDay.
Meer content