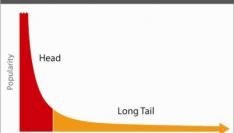 Momenteel ben ik het boek 'The Long Tail', geschreven door Chris Anderson, aan het lezen. Hierin kwam ik zo'n bizarre toepassing van de theorie tegen, die ik graag met jullie wil delen.

Voor meer informatie over de Long Tail theorie, check het artikel op Wikipedia. In het kort komt het erop neer dat het internet kosten gerelateerd aan zowel het kopen en verkopen van producten verlaagd. Hierdoor wordt het economisch haalbaar om meer producten aan te bieden die een relatief kleine niche bevolken. Een gevolg hiervan is dat er een culturele verschuiving plaatsvind; steeds minder 'hits' en steeds meer niche-producten die gezamenlijk een vrijwel even grote markt vormen als de traditionele 'hits'. Hiermee is The Long Tail een logisch onderdeel van mijn blog 'Hoe Web 2.0 alles verandert'.
Terug naar het bizarre voorbeeld op pagina 50 en 51 van het boek en op de eerder genoemde site de bron. Het betreft een analyse van "The Long Tail of national security", door John Robb. Robb is een militair analist en beheerd de Global Guerillas Website. Ik citeer:

"Traditionally, warfare (the ability to change society through violence) has been limited to nation-states (except in rare cases). States had a monopoly on violence. The result was a limited, truncated distribution of violence (a power law). That monopoly is on the skids due to three trends:
A democratization of the tools of warfare. Niche producers (for example: gangs) are made possible by the dislocation of globalization. All it takes to participate is a few men, some boxcutters, and a plane (as an example of simple tools combined with leverage from ubiquitous economic infrastructure).
An amplification of the damage caused by niche producers of warfare. The magic of global guerrilla systems disruption which turns inexpensive attacks into major economic and social events.
The acceleration of word of mouth. New groups can more easily find/train recruits, convey their message to a wide audience, and find/coordinate their activities with other groups (allies).

The result: a long tail has developed. New niche producers of violence have flourished. Demand for the results these niche suppliers can produce has also radically increased. Big concepts (such as a struggle between Islam and the US), not championed by states, has supercharged niche suppliers like al Qaeda and its clones."

Bizar en zeer zeker creatief, maar volgens mij onjuist. De Long Tail theorie is niet altijd toepasbaar, en dit is zo'n niet-relevant gebied. Een terroristische organisatie heeft mijns inziens totaal geen boodschap aan de genoemde trends. Idealen leveren intrinsieke motivatie, tegenover de extrinsieke motivatie veroorzaakt door geld en dus is de 'democratization of the tools of warfare' geen voorwaarde voor het uitvoeren daarvan, net zomin als dat het goedkoper wordt om deze 'tools' te gebruiken. Op het internet kan e-WOM lopen als een vuurtje, zoals onlangs op Twitter toen Sven vergat van baan te wisselen. Helaas is e-WOM ook erg open en inzichtelijk, niet handig voor een terroristische organisatie.