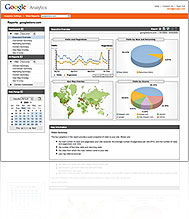 Google heeft blijkbaar problemen bij de lancering van nieuwe diensten. Na 36 uur hebben we nog steeds geen stats via Google Analytics (zie poll op DC). Misschien is het te druk, maken te veel mensen gebruik van de nieuwe dienst of is de server capaciteit niet toereikend, I don't know ?
Dat we niet de enige zijn blijkt wel:
"When I first uploaded a video to google, it just vanished. Poof. Gone. I had no way to see it and no idea where it had gone to.
I put Google Analytics on my blog on Monday. I still don't have any data. The service tells me, "Analytics has been successfully installed and data is being gathered now. Your first reports will be ready within twelve hours." Not exactly.
I submitted a theater review to Google Base this morning. And it took ten minutes to be processed and displayed. Does it take Craigslist that long to post a listing? No way.
Google wake up.
Henk de Hooge
Henk is Internet Entrepreneur, founder van Dutchcowboys en daarnaast tech en travelblogger, fotograaf, visual storyteller en bovenal een digitale nomade....