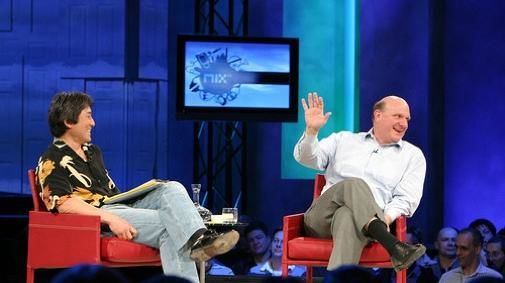 Hij heet Steve Ballmer en is de CEO van Microsoft. Hij neemt nimmer een blad voor zijn mond, dans en springt over het podium, is performer pur sang en is onvoorstelbaar scherp als het het om zijn bedrijf gaat.
Afgelopen week was hij te gast bij de MIX 08 conference. De interviewer met de snelste naam, Guy Kawasaki (Apple fellow en Mac evangelist), was duidelijk bezig Balmer te challangen en dat levert mooie teksten op. Natuurlijk was de eerste vraag gerelateerd aan het overnamebod van Microsoft of Yahoo:
Kawasaki: "what's the deal"

Ballmer: "We've made an offer and it's out there, baby"
Kawasaki had zijn Apple MacBook Air die figureerde in de discussie toen de Windows Vista's problemen werden aangekaart.
Kawasaki: "What's the deal with Vista? Seriously."
Ballmer: "Vista, the second-most popular operating system in history?"
Kawasaki: "The one that you get no choice but getting, yeah."
Ballmer: "Let me see that thing. You got Vista on that thing? ... See, you have a choice. You're one of the few that made the wrong choice."
Kawasaki: "Wouldn't you like to use a computer like this, you could just take out of a little envelope."
Ballmer: "This is heavier than my PC. True! That thing is heavier than the Toshiba I carry."
Kawasaki: "But this is more powerful than the Toshiba."
Ballmer: "No, that thing is missing half the features of the PC. Where's your DVD drive"

Het volledige interview vindt je hier

En voor wie Steve zelf een mail willen sturen:
Kawasaki: "You're telling me if somebody just wrote what's your e-mail address?"
Ballmer: "I'm SteveB@Microsoft.com"
Henk de Hooge
Henk is Internet Entrepreneur, founder van Dutchcowboys en daarnaast tech en travelblogger, fotograaf, visual storyteller en bovenal een digitale nomade....