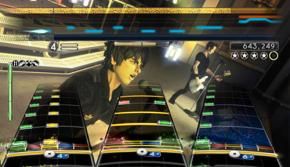 Entertainment Weekly heeft de tracklisting van Green Day: Rock Band, en naast het volledige American Idiot album staat ook Dookie er helemaal op en zijn de nog niet uitgebrachte nummers van 21st Century Breakdown ook van de partij. Natuurlijk zijn de hits van de andere albums ook niet vergeten, dus krijg je toch een berg (47) tracks voor je geld. De volledige tracklist, praktisch gesorteerd per album, is als volgt:
Dookie (1994)
"Burnout"
"Having a Blast"
"Chump"
"Longview"
"Welcome to Paradise"
"Pulling Teeth"
"Basket Case"
"She"
"Sassafrass Roots"
"When I Come Around"
"Coming Clean"
"Emenius Sleepus"
"In the End"
"F.O.D."
Insomniac (1995)
"Brain Stew"
"Jaded"
"Geek Stink Breath"
Nimrod (1997)
"Hitchin' a Ride"
"Good Riddance (Time of Your Life)"
"Nice Guys Finish Last"
Warning (2000)
"Minority"
"Warning"
American Idiot (2004)
"American Idiot"
"Jesus of Suburbia"
"Holiday"
"Boulevard of Broken Dreams"
"Are We the Waiting"
"St. Jimmy"
"Give Me Novacaine"
"She's a Rebel"
"Extraordinary Girl"
"Letterbomb"
"Wake Me Up When September Ends"
"Homecoming"
"Whatsername"
21st Century Breakdown (2009)
"Song of the Century"
"21st Century Breakdown"
"Before the Lobotomy"
"Last Night on Earth"
"Peacemaker"
"Murder City"
"¿Viva La Gloria? (Little Girl)"
"Restless Heart Syndrome"
"Horseshoes and Handgrenades"
"The Static Age"
"American Eulogy"
"See the Light"
Downloadable Content voor dit album (niet inbegrepen)
"21 Guns"
"Know Your Enemy"
"East Jesus Nowhere"
"Last of the American Girls"
"¡Viva La Gloria!"
"Christian's Inferno"
Patrick Smeets
Game-enthousiast, tech blogger en presentator. Was ooit rockster. Local celebrity in Limburg maar ziet graag veel van de wereld. Er zijn niet genoeg kattenGIFjes...