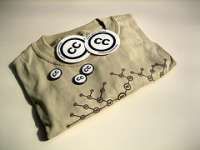 Hoewel de actie al weer een tijdje loopt is toch aardig om je eigen creativiteit los te laten op de t-shirts van Creative Commons.
"Creative Commons launched the first CC Swag Photo Contest on Flickr to promote the Annual Fundraising Campaign.
The contest offers a chance for people to win prizes for creatively photographing their CC Swag (t-shirts, buttons, stickers, etc. — all available from the Support the Commons store and showing their support for CC during this critical fundraising period".
Meer info vindt je hier
Henk de Hooge
Henk is Internet Entrepreneur, founder van Dutchcowboys en daarnaast tech en travelblogger, fotograaf, visual storyteller en bovenal een digitale nomade....