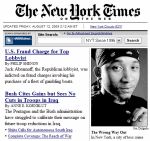 De New York Times is er de laatste tijd al hard tegenaan gegaan met het slechten van de muren tussen papier en web, maar heeft nu de muur tussen de oude en nieuwe journalistiek definitief opgeblazen. In een oekaze aan alle redacteuren leggen hoofdredacteur Martin Nisenholtz en Bill Keller (vice president digital operations) uit wat ze willen, en dat het snel moet gebeuren. Nú!
Hoe anders als in 1995: Internet people are frontierspeople. [Behind them] are the barbarians like me -- the shopkeeper. We're their worst nightmare, but we're coming." -- Arthur Sulzberger Jr., publisher of the New York Times, addressing a Nieman Foundation conference in 1995.
Met de integratie van de centrale redacties van web en print willen ze ieder verschil tussen papieren en digitale journalisten elimineren. Het dagelijks doel, het dagelijks denken, moet alleen nog maar van web-journalistiek doordrenkt zijn ...
In tien jaar is ook in Amerika veel veranderd. Gezien een prachtig citaat op Online Journalism Review in het verhaal van Marc Glaser op de New York Times: 'Internetters zijn mensen die grenzen verleggen (frontierspeople). Achter hen staan mensen zoals wij, die de winkel moeten bewaken. Wij zijn hun ergste nachmerrie, maar we komen eraan'. Uitspraak van Arthur Sulzberger, uitgever van de New York Times, in een speech tijdens de Niemand Foundation Conference in 1995.
Mark Glaser op Online Jornalism Review: 'The integration of print and online newsrooms is more than just about physical space. In a staff memo they might as well have CCed Jim Romenesko, executive editor Bill Keller and vice president of digital operations Martin Nisenholtz spelled out a philosophical change that echoed into every newspaper newsroom: 'By integrating the newsrooms we plan to diminish and eventually eliminate the difference between newspaper journalists and Web journalists -- to reorganize our structures and our minds to make Web journalism ...'.
Meer content
Leon Krijnen
Verslaggever bij BN DeStem. Schrijft over baseball, bouw, techniek, fotografie, mensen, computers, internet, reizen en oldtimers. @Krijnen.Com