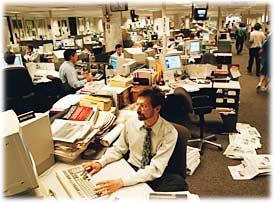 Jeff Jarvis geeft op zijn weblog BuzzMachine zijn visie over de toekomst van redacties (a new newsroom). Boeiend voor alle journalisten en bloggers in Nederland.
The input: New news gathering: Newsrooms need to redefine news and news gathering. They need to be open to new sources of news, including the reporting of the people they used to view as the audience: yes, even bloggers. To use our parlance today, newsrooms need to think of themselves -- again -- as aggregators, gathering -- and sometimes packaging, sometimes not -- the news their communities create .
They also need to waste less effort, talent, and money on commodity news, the news we already know, the news we could write ourselves if we watched CSpan or CNN. If you can link to it, if the audience already knows it, why spend ever-more-precious resources redoing it?
Journalists aren't the only ones who can do that, but that is still their primary value.
Henk de Hooge
Henk is Internet Entrepreneur, founder van Dutchcowboys en daarnaast blogger, strateeg, visual storyteller en bovenal een digitale nomade. Je maakt Henk...