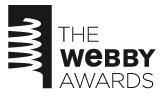 De jaarlijkse Webby Awards zijn weer uigereikt. Op nu.nl was al te lezen dat het Nederlandse Reclamebureau Black Magic Marker een Webby Award heeft gewonnen.

Het bureau won de prijs in de categorie Consumer Electronics met de website tomtomsecrets.com. Het Wired.com: Gadget Lab won in dezelfde categorie de People's Voice Award. De Webby Awards worden jaarlijks door "The International Academy of Digital Arts and Sciences" uitgereikt aan de beste websites ter wereld.

"The wait is finally over! The Winners of the 13th Annual Webby Awards have been announced. The Academy selected Winners from nearly 10,000 entries representing all 50 states and 60 countries worldwide. Winners receiving the prestigious title of the best of the Web have been selected in over 100 Website, Interactive Advertising, Mobile and Film & Video categories".

Een overzicht van alle winnaars is hier te zien.