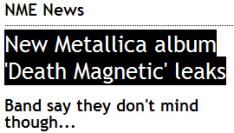 Het nieuwe album van Metallica is meer dan een week voor de officiële release op 12 september uitgelekt via internet. Zo is te lezen op de website van het muziekblad NME.

Een exemplaar van Death Magnetic werd onlangs per ongeluk verkocht in een Franse platenzaak. Waarna uiteraard de nieuwe nummers van de Amerikaanse band op internet belandden.
Drummer Lars Ulrich maakt zich niet zo heel druk. "Listen, we're ten days from release," zo liet hij weten aan het Amerikaanse radiostation Live 105. "I mean, from here, we're golden. If this thing leaks all over the world today or tomorrow, happy days. Happy days. Trust me. Ten days out and it hasn't quote-unquote fallen off the truck yet? Everybody's happy. It's 2008 and it's part of how it is these days, so it's fine. We're happy."