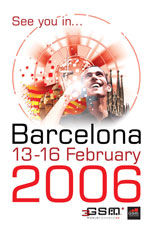 Hier vinden jullie het tweede deel van ons overzicht van alle persberichten en onthullingen van de tweede dag. Nogmaals veel (heel veel) leesplezier!
Wederom gaat onze dank uit naar de organisatie en Telecoms dot com die het leven van de verzamelde pers zo aangenaam mogelijk probeerden te maken. Perfect geregeld!
Natuurlijk zijn alle persberichten in het Engels uitgegeven, maar zoals ik in deel 1 ook al aangaf kon ik ze onmogelijk allemaal bloggen, vandaar dit tweede deel van ons overzicht om jullie toch zo compleet mogelijk te informeren.
Dag 2, 14 Februari: - Samsung showcases latest mobile semiconductor solutions for Mobile TV, Smart & Feature Phones at 3GSM World Congress
- Samsung Hosts Live Demo of Secure Multimedia Services Using MMC at 3GSM World Congress
- Anritsu Announces System Contract for 3G Network and Service Quality Monitoring and Troubleshooting
- UIQ Technology present Wireless Development Sessions at the 3GSM World Congress
- Activa Multimedia presents its virtual character management system for video portals on 3G cell phones
- RFMD® To Showcase Industry-Leading Wireless Solutions At 3GSM World Congress 2006
- RFMD® EXPANDS INDUSTRY-LEADING EDGE PRODUCT PORTFOLIO
- RFMD® UNVEILS SOFTWARE-BASED GPS SOLUTION FOR MOBILE DEVICES
- RFMD® SHIPS 20 MILLIONTH POLARIS™ TOTAL RADIO™ TRANSCEIVER
- RFMD'S BLUETOOTH® TECHNOLOGY ENABLES AWARD-WINNING
- MTN Group signs groundbreaking outsourcing agreement with Belgacom International Carrier Services
-Toshiba Launches 1Gbps Smart Mobile Hinge Link ICs for clamshell phones reduce component count and EMI
- Toshiba Launches Flexible and low power 'Flexpander' IC that simplifies the design and improves the mechanical integrity of clamshell mobile phones
- TI CEO Envisions Making Mobile Phones Affordable
- SKYPE INTRODUCES NEXT GENERATION MOBILE APPLICATION
- Compal Communications Selects Irdeto Mobile DRM Solution
- SKYPE AND HUTCHISON 3 GROUP JOIN FORCES TO OFFER SKYPE ON MOBILE DEVICES
- SKYPE GOES MOBILE: UNLIMITED COMMUNICATIONS ANYWHERE, ANYTIME
- Optimi Secures Major Contract with T-Mobile International
- Texas Instruments New OMAP™ 3 Architecture Will Spark Development of a New Class of Mobile Phones
- Afone chooses Highdeal as the pricing, rating and billing solution for its new telephony services
- Symbian OS shipments in Q4 2005 reach 10.9m 2005 shipments total 33.9m
- Yahoo! Joins Symbian Platinum Partner Program
- BSkyB selects Symbian OS to develop Sky by mobile
- ROUTE 66 announces availability of ROUTE 66 Mobile 7 in Brazil, the Middle East, South Africa and Singapore
- T-Mobile International 3GSM World Congress Announcements
- CCRTV Interactiva presents 3alacarta for cell phones at the 3GSM World Congress in Barcelona
- T-Mobile shakes-up UK's mobile phone tariffs for business
- T- Mobile announces reduced "World Class" tariff for international roaming
- Activa Multimedia presents iVAC, its new platform for creating virtual characters, at 3GSM
- SKYPE TO BOOST RETAIL PRESENCE IN EUROPE IN PARTNERSHIP WITH DANGAARD TELECOM
- Silicon & Software Systems (S3) collaborates with Hantro to demonstrate DVB-H Software Platform
- ROUTE 66 starts shipping ROUTE 66 Mobile 7 for China
- EXPWAY and HANTRO to integrate their solutions for DVB-H and Smartphones Devices
- 3 gets the right message from its customers
- Apertio One-NDS (Network Directory Server) selected by T-Mobile to Simplify Core Network
-New CUE Certification Pricing with BABT
- The world's first billing software Attestation issued to Allround
- BABT/TUV Product Service achieves SAR accreditation
- SDC announces new features, new devices, new partners and new markets at 3GSM 2006 in Barcelona
- Digital World Services' (DWS) Announces Expansion Plans for the Asian and South American Markets and Presents New Functionality Roadmap at 3GSM 2006
- Toshiba releases newly developed VGA LCD controller based on MDDI technology for 3G mobile handsets
- Gemplus, Swapcom and Abaxia set the menu for mobile operators
- SPREADTRUM UTILIZES CEVA-X DSP TODEVELOP TD-SCDMA BASEBAND PROCESSORS FOR 3G WIRELESS HANDSETS
- IT'S ALL IN THE CARDS FOR WAAT AND CARDPLAYER MEDIA
- CETECOM Spain Offers Job Vacancies
- Intec demonstrates unmatched portfolio of newly launched and established products, solutions and services at 3GSM World Congress
- Scalado and Teleca announce strategic partnership for advanced mobile imaging solutions
- Broadcom's VideoCore® Mobile Multimedia Processor Technology Selected by TCL for High-End Video Playback at Affordable Phone Prices
- Eurotel partners with End2End for mobile content delivery
- Broadcom CellAirity™ Technology Adopted for New BIRD Multimedia Handset
- Broadcom and Freescale Collaborate to Enable Mobile Phones with Bluetooth® Functionality
- Broadcom Announces World's First Single-Chip Bluetooth® + FM Radio Device for Use in Mobile Phones and Media Players
- Broadcom Delivers Higher Quality Video, Audio and Mobile TV
- Broadcom® M-Stream™ Technology Nearly Doubles Cellular Network Capacity While Maintaining Voice Quality
- Broadcom Enables 3G Mobile Phones at 2G Prices
- Broadcom Delivers New CellAirity™ Mobile Platform
- Philippines' Largest Carrier Adopts Funambol's Mobile Open Source Platform
Ron Smeets
Ron verdiende zijn sporen in de Telecom als Mobile Cowboy. Na bijna 15 jaar was hij toe aan een nieuwe uitdaging als zelfstandig freelance journalist,...