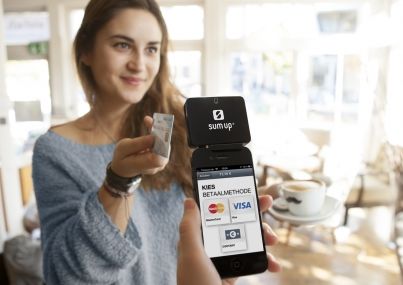 SumUp opent naast de bestaande kantoren in het Verenigd Koninkrijk, Ierland, Duitsland en Oostenrijk, nu ook een vestiging in Nederland. Het mobiele betaalsysteem van SumUp bestaat uit een gratis cardreader, die op de mobiele telefoon of tablet geplaatst wordt, waarmee dankzij een bijbehorende gratis app, een soort mobiele betaalterminal ontstaat - een zogenoemde mobiele point-of-sale.

Hiermee kunnen betalingen worden gedaan vanaf een euro. De app is beschikbaar voor zowel het iOS- als het Android-platform. SumUp is de enige speler op dit gebied die zowel betalingen met Visa én MasterCard verwerkt, in alle landen waar het bedrijf nu aanwezig is.

Daniel Klein, CEO van SumUp: "Er zijn nog teveel ondernemers die geen creditcardbetalingen aan kunnen nemen vanwege de hoge kosten die traditionele banken rekenen. Het is dan ook geen hogere wiskunde dat er een enorme vraag is naar ons product. Het is onze missie om ook kleine MKB-er en zelfstandigen de mogelijkheid te geven om kaartbetalingen aan te nemen op een eenvoudige, veilige en betaalbare manier. Met onze uitbreiding naar Nederland zijn we weer een stap verder in onze oplossing voor dit probleem waar vooral MKB-ers mee kampen."
De verwachting is dat deze manier van betalen goed aanslaat in Nederland, een land waar de smartphone penetratie in het laatste kwartaal van 2011 uitkwam op 52 procent. Gemak dient de Nederlandse consument die met plastic wil betalen, ook voor kleine bedragen. En met het aantal MKB-bedrijven in Nederland, 1.244.515 is de afzetmarkt ruim voldoende.
Marius Burca, Managing Director SumUp Nederland: "Met de kaartlezer en de app van SumUp kan een kleine winkelier geholpen zijn, maar ook een taxichauffeur kan bijvoorbeeld direct zijn klanten in de auto laten afrekenen met plastic. In feite helpen we de kleine en middelgrote Nederlandse ondernemer om hun klanten meer service te bieden. SumUp is een bedrijf dat echt een oplossing wil bieden voor de betaalproblemen waar veel MKB-ers tegenaan lopen."
Q&A met Marius (op verzoek in het Engels):
Q: Security is always an issue when it comes to 'mobile payments'. Is your system 100% secure?
"At SumUp, security and data protection are our key priorities in all parts of our system. SumUp has bank-grade security standards meaning that all transactions are fully encrypted and compliant with the highest levels of security in the industry. SumUp is Europay, Mastercard and Visa (EMV) and PCI-DSS certified, the highest security standard for card payments.
We and have a number of processes in place to ensure we protect our customers' sensitive data. The SumUp card reader encrypts data at the same time it reads it and no sensitive data is ever stored on the reader or the mobile device used to transmit payments.
In order to ensure security to 100%, we have built our security system around three major areas:
I) Secure data transfer and processing: High-security hosting, state-of-the-art data encryption and sensitive data tokenization mechanisms
II) Secure data storage: PCI-DSS and EMV compliance, following OWASP coding guidelines, no sensitive data is stored on the mobile device
III) Secure routines: strict security policy for SumUp and all employees, continuous quality testing, screening and identification for suspicious transactions".
Q: On Dutchcowboys we recently wrote an article about 'payleven'. Are they your main competitor?
A: "Our business model is the largest shift in decades in both payments and in real-world commerce. It is thus no surprise that entrepreneurs and venture capitalists seek to be part of this fundamental shift. In that respect, we expect to see competition and we take it as a challenge to make ourselves better. Having said that, we still see cash as our main competitor and we are working hard to enable small merchants to accept card payments so they don't have to rely on customers to carry cash any longer."
Q: What do you think of PayPal, a tool we consider to be the future of 'mobile' payments? Are they a competitor?
A: "It is natural that many companies involved in payments, in one way or the other, try to participate in this tectonic change in the payment landscape. This is yet another proof that there is a real problem out there for small merchants who cannot yet accept card payments. Each competitor will obviously try their best to perform and to improve their product, but the ultimate judge will be the small merchants. Our objective is to focus on our merchants and on solving a real problem for them every day."
Q: What is your goal for the dutch market? We're will (or do you hope) to be with the company  in 4/5 years?
A: "We take the Dutch market seriously and that's why, unlike our competitors, we have set-up an office in Amsterdam. The Dutch market is very attractive for us because of the high share of small businesses in the Dutch economy. Our objective is that in 4 to 5 years, every small business and sole trader in the Netherlands can accept card payments on their smartphone. We want to enable small businesses to attract new customers, provide the best possible service and ultimately build more loyal relationships them."
Q: Its already launched in the UK, Ireland, Germany and Austria. How is it going there? And what are the next countries you are aiming for?
A: "Our launch in the UK, Ireland, Germany and Austria has been a huge success.
We are receiving very positive feedback from the several thousand local merchants who are already using SumUp actively and we continue to grow very fast. But still, too many merchants in countries all over Europe are unable to take credit and debit card payments because traditional banks' expensive and complex model of renting out terminals is a poor fit for their businesses. Therefore we are ready and willing to put our resources into servicing more and more additional markets – and look forward to expanding into even more markets in the future – in Europe and beyond."