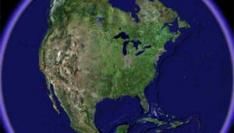 Even before we introduced Google Earth back in 2005, the team had long dreamed of being able to carry the Earth around in your pocket.

Zo was te lezen op het Google Blog. Vandaag is die droom uitgekomen met de introductie van Google Earth voor de iPhone en de iPod touch. Van Parijs naar Melbourne, van Mexico naar Groenland, je bent overal met een enkele vingerbeweging. Het is wel klein, maar het brengt alles van Google Earth naar de palm van je hand. Je kan zelfs de 8 miljoen Panoramio foto's doorbladeren of Wikipedia artikelen lezen.
Met Google Earth voor de iPhone kan je:
* Tilt your iPhone to adjust your view to see mountainous terrain
* View the Panoramio layer and browse the millions of geo-located photos from around the world
* View geo-located Wikipedia articles
* Use the 'Location' feature to fly to your current location
* Search for cities, places and business around the globe with Google Local Search

Het is beschikbaar in 18 verschillende talen en in 22 landen in de iTunes App Store. To learn more, check out this video tour and read the blog post on the Lat Long Blog.

Jeroen de Hooge
Jeroen is al meer dan 15 jaar betrokken bij Dutchcowboys. Begonnen als content creator, en inmiddels verantwoordelijk voor de dagelijkse gang van zaken...