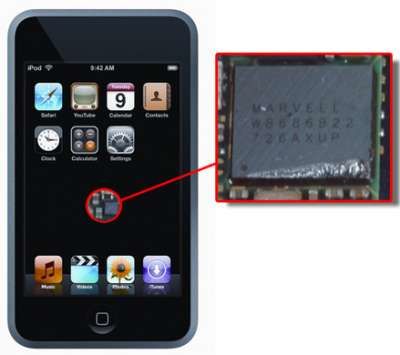 Wi-Fi is hot. Steeds meer netwerken staan (bewust) open en grote steden bieden de dienst gratis aan. Ook een beetje Smartphone, netwerkprinter of cam kent Wi-Fi.
De nieuwe verbeterde 802.11n-Chip van Marvell verbetert de snelheid van nu 300 naar zo een maximale snelheid van 450 Mbps. Ook het bereik in afstand zou verbeterd zijn.
Op de Consumer Electronic Show, die volgende week in Las Vegas begint, zal Marvell de chiptechnologie tonen.
Santa Clara, California (January 2, 2008) — SANTA CLARA, Calif. (Jan. 2, 2008) — Marvell (NASDAQ: MRVL) announced today at the International CES 2008 trade show, the Marvell® TopDog® 11n-450, an 802.11n 3x3 WLAN solution with three spatial streams, the industry's first 802.11n chip operating at 450 Megabits-per-second (Mbps.) With maximum bandwidth more than eight times faster than 802.11g 54 Mbps versions and 1.5 times faster than current 802.11n 300 Mbps offerings, the new product will enable significant performance enhancements for notebooks and desktop PCs, printers, routers, set top boxes, digital TVs, gaming devices and DVD players and recorders. The TopDog 11n-450 provides 500 percent increased range over 802.11g, as well as 160 percent increased range compared to competing 802.11n solutions.
Via: http://www.marvell.com/products/wireless/wi-fi_450mbps_802.11n/release/972/
Patrick Petersen
Vreemde eend Patrick Petersen RDM MA MSc is een ervaren ondernemer, spreker en docent (aan onder andere Nyenrode Business University, Beeckestijn Business...