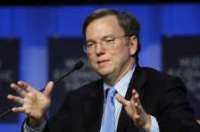 Ron schrijft op MC: In een interview heeft Google topman Eric Schmidt zich laten ontvallen dat er GEEN Google Phone op komst is.
Hij liet wel weten dat Google diverse samenwerkingen met telefoonfabrikanten als LG, Samsung en KDDI (Japan) aan zal gaan.
Nog een opvallend detail in het interview was het feit dat Schmidt, lid van de raad van bestuur van Apple, nog steeds geen iPhone van Steve Jobs, die er zelf wel al mee rondloopt, gekregen heeft.
Interviewer: "... Steve was flashing his iPhone around. I held it for 20 minutes." Eric mentions he hasn't held it, and doesn't have one. Interviewer: "Your a member of Apple's board! Eric: "No...I'm still waiting for mine."