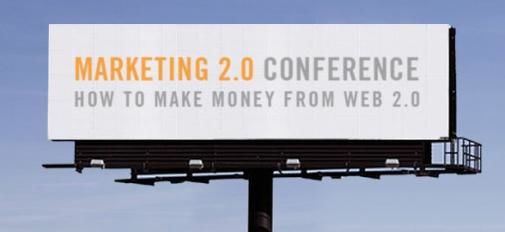 Op 5 en 6 mei is in Parijs de The Marketing 2.0 Conference met een imposant aantal top-sprekers waaronder YouTube, Forrester, Justin.tv, Netvibes, MySpace, Yahoo!, Nokia, Skype, SixApert, ZyB, Ask maar ook onze eigen Theo van Vugt van Tijdschrijft voor Marketing en Molblog.
Lezers van DutchCowboys kunnen met 200 euro korting naar dit event. Je betaalt dan geen € 980,- maar slechts € 780,- Wie gebruik wil maken van dit aanbod moet deze code 200-P5SIKMUT gebruiken.
The Marketing 2.0 Conference brings the intelligence, innovation, and leadership of the Marketing, Media and Internet industry together in one place at one time to learn from best practices and the successful use of the new marketing tools like Social Networks, Mobile Marketing, Internet TV and Video as well as Word-of-Mouth Marketing.

The Summit is known for its interactive format, stressing interaction and participation on both sides: the speakers and the audience. Through insightful plenary sessions, cut-through-the-hype onstage conversations, and "show me" presentations as well as in-depth workshops, visionaries and executives, experts and researchers from the Marketing and Internet businesses will come together to explore and present their unique insights in how to use the whole new collection of marketing tools and how brand marketers could benefit from it.

You'll learn what marketing models are working, what's next on the horizon, and how all of this will affect your marketing, branding and business decisions. The Marketing 2.0 Conference is brought to you in partnership with the ESCP-EAP of the leading European Business in Paris, France which is known for its forward thinking and innovative research outcomes.

The Marketing 2.0 Conference focuses on emerging marketing practices and technology developments that utilize the Web and Mobile as a platform and defines how the electronic environment will affect consumer decisions and drive the marketing business in the future. What began as a focused Word of Mouth Marketing meeting four years ago has transformed into a new industry event focused on the latest Marketing innovations-the services, applications, businesses, and models-that are redefining the way companies could improve their marketing and how customers perceive the value of the all new marketing tools.

Join us at the Marketing 2.0 Conference, as we explore the use of the electronic environment as a valuable driver for the marketing industry.

We are bringing together the most influential marketing and internet experts to discuss and debate the most important issues and strategies driving marketing business and what we might expect in the coming year.

Attendance at Marketing 2.0 Conference is limited to maintain an intimate setting and foster dialogue among all participants!