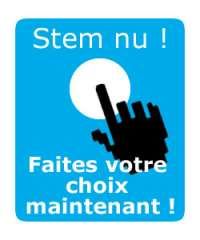 In Belgie is op 18 oktober is de uitreiking van de MIXX Awards. Niet alleen een erkenning voor campagnes die hun communicatiedoelstelling hebben bereikt of overtroffen, maar ook belonen de « MIXX Achievement Awards » de persoonlijkheden, adverteerders en agentschappen die een bijzondere bijdrage hebben geleverd aan de ontwikkeling van de interactieve en digitale marketing.
Iedereen kan hiervoor mee stemmen. Hieronder vindt je de shortlists voor de drie categorieën (Lifetime achievement, Marketeer of the year et Agency of the year). De stem van het publiek telt voor 50 % mee, die van de jury voor de overige 50%.
Stemmen kan deze week tot en met zondag 30 september .
- Lifetime achievement award:     Jo Caudron     Alain Heureux     Erwin Jansen     Brice Le Blévennec     Benoît Lips     Hugues Rey     Jan Van Den Bergh     Jean G. Zurstrassen
- E-Marketeer of the Year:     Stefaan Claes for Opel     Liesbeth Dupon for Neckermann     Johan Houben for Coca-Cola     Jok Junius for D'Ieteren     Els Lagroux for SN Brussels Airlines     Anne-Françoise Piette for Eurostar     Christophe Reiter for Dodge     Stephane Vermeiren for Rabobank.be
- Interactive Agency of the Year:     Agency.com     Boondoggle     DuvalGuillaume E     Emakina     Group 94     One agency     Snow     These Days
Henk de Hooge
Henk is Internet Entrepreneur, founder van Dutchcowboys en daarnaast blogger, strateeg, visual storyteller en bovenal een digitale nomade. Je maakt Henk...