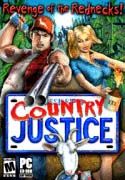 Gamers die al wat langer meegaan kennen het ongetwijfeld nog, de 3d-shooter Redneck Rampage. Het spel combineerde destijds mooie graphics en mogelijkheden van de zogeheten Build Engine met platte humor uit het Westen van de VS. Iedereen die van die shooter heeft genoten staat weer een nieuwe uitdaging te wachten. De Hill Billies zijn weer helemaal terug in Country Justice: Revenge of the Rednecks. Het spel is niet door Xatrix Entertainment ontwikkeld maar moet wel de sfeer van de Redneck games terugbrengen.
There's No Justice if it Ain't Country Justice
Living was easy for bootleggin' Steve Earl, cousin Ellie May and their bestest goat Dixie–'til now. Dixie's gone a missin', the country's good ol' boys turnin' into Zombies and somebody gotta do somethin' about it! Gun control round here means one gun per hand, and you ain't much for following rules!
So get yoer gun, and fire up the pickup. Thar's zombies to kill, goats to save, and figurin' out to be done. Somethin' ain't right in Yahoo County, and it ain't gonna fix itself! Come on boy - git to it!