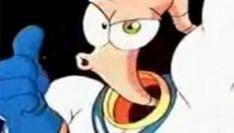 De meeste kennen hem nog wel, Earthworm Jim, de tekenfilmserie uit de jaren '90 waar ook een aantal leuke games van verschenen.

Onlangs is bekend gemaakt dat er na 15 jaar weer nieuw leven wordt geblazen in Earthworm Jim en er een nieuwe game in de maak is. Ontwikkelaar Gameloft heeft de exclusieve rechten gekregen van uitgever Interplay om de serie nieuw leven in te blazen. De game zal online op de consoles verschijnen, en mogelijk komt de game ook uit op de iPhone. Release date staat ergens in Q4 dit jaar.
Uit het persbericht:

"We are delighted to partner with Interplay to bring Earthworm Jim to multiple downloadable platforms," aldus Gonzague de Vallois, senior VP bij Gameloft. "The game, with its humorous and edgy style, is a great fit for today's gamer who craves a fully immersive experience that is fun and easily accessible. We look forward to delivering a fantastic game."

Initially released in 1994, Earthworm Jim's games garnered such a cult following that the character's popularity took him far beyond video games into an animated TV series, Toys and Comic books. Earthworm Jim centers around an ordinary earthworm who engages in normal worm activities- eating dirt, crawling and fleeing from hungry birds- that is until he comes across a high tech indestructible space suit. Jim takes refuge in the space suit while fleeing from hungry birds. The suit's powerful atomic particles cause him to grow and obtain newfound powers.

Jeroen de Hooge
Jeroen is al meer dan 15 jaar betrokken bij Dutchcowboys. Begonnen als content creator, en inmiddels verantwoordelijk voor de dagelijkse gang van zaken...