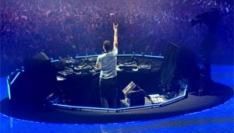 Officieel is de game nog niet aangekondigd, maar Activision gaat in 2009 toch echt de DJ variant van Guitar Hero uitbrengen. En uit een nieuwsbrief die online circuleert blijkt dat DJ Tiësto ook betrokken is bij de game. Hij zal bestaande en ook een aantal nieuwe tracks, speciaal voor de game gemaakt, aanleveren.

"I am very excited about this! I think this is a great way to introduce people into Djing. Maybe they realize it's not as easy as they think. I am sure this brings new fans to the scene, dance music is not far from hip-hop for example. Hopefully the music I have composed appeals to all kinds of fans!"
Jeroen de Hooge
Jeroen is Managing Director van The Blogidea Factory, de online uitgever van ondermeer Dutchcowboys, Stylecowboys, Carrepublic & Eatly. Daarnaast is hij...