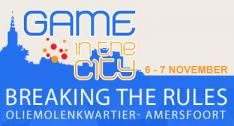 Op 7 november is er een serie unieke masterclasses over Game Design en Game Business in Amersfoort op het Oliemolenkwartier. Professionals uit de industrie vertellen meer over hoe je games maakt en hoe je er geld mee verdient.

De masterclasses komen van verschillende gamebedrijven: Little Chicken, Playlogic, W!Games, Streamline Studios, Pratical Mucis, VirtualFairground. Advocatenkantoor Solv is er ook om te vertellen hoe je al die goede ideeen moet beschermen. De unieke masterclasses zijn gericht op jonge ondernemers en studenten. Er zijn al aanmeldingen uit heel Nederland.
Amersfoort Creatieve Stad organiseert de masterclasses in samenwerking met Dutch Game Garden tijdens Game in the City. Game in the City is een tweedaags evenement op 6 en 7 november met als hoofdsponsors de Gemeente Amersfoort en de Provincie Utrecht.

Meer informatie vind je op www.gameinthecity.nl, waar je je ook kunt inschrijven.