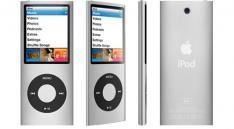 Als we deze geruchten mogen geloven dan wordt de volgende generatie iPods die rond September op de markt zullen komen voorzien van een camera.
Behalve foto's zou de iPod camera ook geschikt zijn om video-opnames mee te maken. Iets dat de huidige iPhone nog steeds niet kan. "Apple should refresh models for the iPod nano and Touch in september. Both should now include a camera, similarly to the iPhone." Of het gerucht stand zal houden is nog maar de vraag, aldus Cowboy Ron.
Jeroen de Hooge
Jeroen is al meer dan 15 jaar betrokken bij Dutchcowboys. Begonnen als content creator, en inmiddels verantwoordelijk voor de dagelijkse gang van zaken...