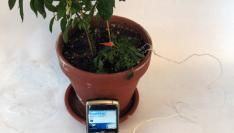 Twitter gaat simpel om de vraag:'Wat doe je op dit moment?' Via Botanicalls Twitter kun je nu ook de wel of niet vochtige status van je planten bekijken en monitoren.
'Botanicalls is a system that was developed to allow plants to place phone calls for human help. When a plant on the Botanicalls network needs water, it can call a person and ask for exactly what it needs. When people phone the plants, the plants orient callers to their habits and characteristics.'
Patrick Petersen
Patrick is auteur, internet-ondernemer, spreker, docent en fanatiek blogger.