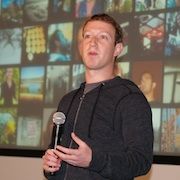 De geschiedenis van sociale netwerken begon met verhalen van bedrijven als Friendster. Facebook was ook één van de eerste sociale netwerken, maar wel eentje die uit het niets uitgroeide tot het grootste sociale netwerk van de wereld. Ekaterina Walter, de auteur van Think Like Zuck: The Five Business Secrets of Facebook's Improbably Brilliant CEO Mark Zuckerberg, sprak over de toekomst van Facebook in een recente podcast voor Duct Tape Marketing. 
Walter vertelde dat Zuckerberg dezelfde situaties heeft meegemaakt als mensen die de techwereld drastisch hebben veranderd, zoals Steve Jobs en Jeff Bezos. Walter sprak ook met John Jantsch over hoe Zuckerberg is veranderd sinds de eerste dagen van Facebook:

Zuckerberg is always about growth, specifically personal growth. ... First of all, this guy built up this successful business in his early 20s without any major experience, really. So there is something to be said for that. You know, second of all he really strives to become a better leader. He puts in the effort. For a year, a hoodie guy came to work in a tie to show how serious he is about Facebook and growing it as a business. I think that he's grown every single year, personally and professionally as a leader and as a leader of a company.