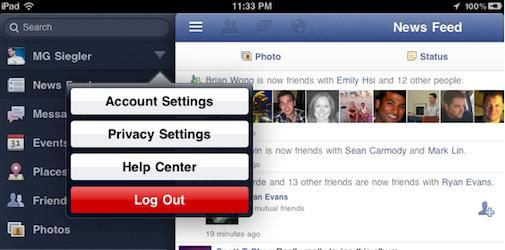 Al maanden geleden kwamen de eerste geruchten naar buiten dat Facebook aan een iPad app zou werken. Sinds vanavond is het geen gerucht meer, Techcrunch heeft diep in de iPhone App schermen gevonden van een vrijwel complete versie voor de iPad. En de applicatie ziet er geweldig uit als we de screenshots allemaal mogen geloven.

Heel veel zou de applicatie niet afwijken maar naast een grote navigatie bar welke de icon-grid van de iPhone vervangt biedt hij meer mogelijkheden voor interactie. Bad news is dat je wel je iPhone moet jailbreaken om bij de schermen te komen. Advies is om dat vooral niet doen, maar voor wie zijn plas niet kan ophouden heeft TNW instructies hoe je dit moet doen :
Check for updates to make sure you have the latest version of Facebook from the App Store. Also, backup your iPad in iTunes.
Visit jailbreakme.com from your iPad. Jailbreaking your iPad is legal, but voids your warranty if you bring your iPad into an Apple Store. It's easy to undo if need be. Just plug your iPad into your computer and restore it from your previous backup. (If you're running iOS 4.3.4, this will NOT work.)
Once the jailbreak process is complete, tap on Cydia, the jailbreak app store that was just installed on your iPad.
Tap the Search tab in Cydia and search for iFile. Download it using the button in the upper right hand corner.
Once iFile installs, open it up, and navigate to the "var" folder of your iPad. Then go to "mobile," then "applications," then "directory."
Click the settings gear icon in the bottom navigation bar and turn "Application Names" to "On."
Open the Facebook folder within the "directory" folder you're inside of. Once you're inside the Facebook folder, open Facebook.app.
Look for the info.plist file, then open it. Pick "Property List Viewer" to view the hexadecimal settings for the Facebook app.
Look for the UIDeviceFamily field and select it.
Delete the 1 you see, and put a 2 in instead. Tap "Done" to complete the process.
Hold down your power button to reboot your iPad.
Open up the brand new Facebook app! It's a bit buggy, but it works.

Een overzicht van alle schermen is te zijn op een speciale pagina bij TechCrunch.
Henk de Hooge
Henk is Internet Entrepreneur, founder van Dutchcowboys en daarnaast tech en travelblogger, fotograaf, visual storyteller en bovenal een digitale nomade....