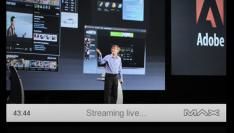 Volgende week (van 5 tot en met 8 oktober 2009) vindt in Los Angeles Adobe MAX 2009 plaats. Vorig jaar werd er nog een soortgelijk evenement in Milaan georganiseerd, waar ook op Dutch Cowboys verslag van is gedaan. Het is helaas niet voor iedereen weggelegd om er even een weekje tussenuit te knijpen en het vliegtuig naar LA te pakken. Wees niet getreurd; via Adobe MAX Online zijn de keynotes en top sessies toch online te volgen. Wanneer je het tijdsverschil meerekend, kun je dus in de avond de laptop op schoot nemen en via Twitter (#AdobeMAX) en Live streams op de hoogte blijven.
Voor de volledigheid de "uitzendingen" in Nederlandse tijden:

Keynotes:
Maandag, 5 oktober, 18:20 -20:00 -- Technology as the Engine of Reinvention (actual keynote begins at 18:30)
Twitter: #adobemaxgs
Dinsdag, 6 oktober, 19:20 -21:00 --The Flash Platform and the Community (actual keynote begins at 19:30)
Twitter: #adobemaxgs/li>
Top sessies: (on demand, zsm na afloop van de sessie)
:
Maandag 5 oktober: Design: Creative Suite 4 Evangelists' Shootout
Twitter: #adobemax339
Maandag 5 oktober: Develop: ActionScript 3.0 Tastes Good (and Is Good for You, Too!)
Twitter: #adobemax147
Maandag 5 oktober: Envision: Why CEOs, CFOs, and CMOs Want Flash (But Don't Know It)
Twitter: #adobemax130
Dinsdag 6 oktober: Design: Photoshop CS4: Essential Techniques and Killer Tips with Terry White
Twitter: #adobemax57
Dinsdag 6 oktober: Develop: How NOT to Code Flex
Twitter: #adobemax38
Dinsdag 6 oktober: Envision: Learn How Design Can Make Complex Concepts Clear and Provide New Roles for Designers
Twitter: #adobemax356
Woensdag 7 oktober: Design: CSS Tips and Tricks for Web Design
Twitter: #adobemax214
Woensdag 7 oktober: Develop: Tackling Memory and Performance in Flash, Flex, and Adobe AIR
Twitter: #adobemax74
Woensdag 7 oktober: Envision: SEO Secrets, Technology, and Magic Behind Flash
Twitter: #adobemax133
Na de conferentie zullen alle sessie ook geplaatst worden op Adobe TV.