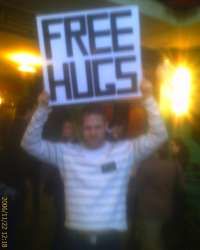 Na alle Karin mysteries, een bericht van Karin zelf vanaf de SIME.
Het is nu lunchtijd van het Stockholm Interactive Media Event en het event is nu al een succes. De rode loper voor 1200 internationale bezoekers en alle bekende namen die je op een dergelijk even mag verwachten o.a. Microsoft, Google, Ericsson, VCs en spannende start-ups, om vervolgens je voeten te vegen op een virtuele Google waterbak met zwemmende vissen?!
Enkele goede quotes: 'What really makes me nervous is al those telco's and tech companies stating it is all about 'content', it feels like a surgeon who just graduated, comes into the surgeon room and says: what we really need is oxygen!'
.... In de discussie over mediacompanies: "The internet will have multiple users and communities where everyone can start and run his own media company. So what the hell is a media company in 2010?... IT ISN'T ..."
En: 'Where will I consume media in 2010?' "well, for sure on the toilet..'
Of the quote van de enige dame on stage van Hunter Thompson:
'A media company nowadays is a cruel and shallow money trench, a long plastic hallway where thieves and pimps run free, and good men die like dogs'. Check out www.sime.nu als je meer wilt weten en oh, de hugs waren echt gratis. Heerlijke knuffels!
Henk de Hooge
Henk is Internet Entrepreneur, founder van Dutchcowboys en daarnaast tech en travelblogger, fotograaf, visual storyteller en bovenal een digitale nomade....