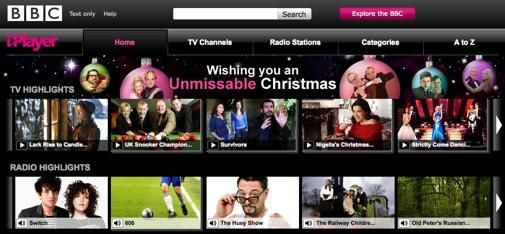 De BBC en Adobe hebben vandaag een Bèta-versie van de nieuwe BBC iPlayer Desktop-applicatie gelanceerd. De applicatie welke is gebouwd op Adobe AIR is helaas alleen beschikbaar voor inwoners in de UK.

De BBC iPlayer Desktop-applicatie stelt gebruikers in staat om BBC-programma's online en offline te bekijken op zowel Windows-, Mac- als Linux-besturingssystemen. De programma's blijven tot een week na de uitzending beschikbaar. De BBC iPlayer Desktop-applicatie integreert bovendien Adobe Flash Rights Management-software voor contentbescherming.
Hieronder het volledige Engelstalige persbericht:

BBC Unveils BBC iPlayer Desktop on Adobe AIR

The BBC and Adobe Systems Incorporated (Nasdaq:ADBE) today announced the public beta of the new BBC iPlayer Desktop download manager built on Adobe® AIR™, a key component of the Adobe Flash® Platform.

The new BBC iPlayer Desktop beta will enable Windows®, Mac and Linux® users to download programs to their desktops. Previously, the ability to download programs was only available for Windows users. Now, the new download manager allows users to view their favorite BBC shows, online or offline, with a high-quality solution across operating systems.

The BBC iPlayer Desktop application on Adobe AIR will be available to BBC iPlayer Labs users, who can sign up at www.bbc.co.uk/iplayer/labs. The BBC iPlayer Desktop application on AIR will be rolled out to all BBC iPlayer users during 2009.

Erik Huggers, director, BBC Future Media & Technology, said: "Since it launched at the end of last year, BBC iPlayer programs have been available for streaming on Windows, Mac and Linux computers. Today, we're pleased to display our commitment to providing a cross-platform download solution for BBC iPlayer users, as Mac and Linux users are
now able to download BBC iPlayer programs to play offline."

Jim Guerard, vice president and general manager of Dynamic Media at Adobe, said: "The BBC is recognized worldwide as a trusted broadcast innovator. The BBC iPlayer Desktop beta on Adobe AIR will help extend their popular browser-based Web video broadcasts to more viewers with a high-quality, instant-on Internet TV experience outside the browser and across all major operating systems."

The BBC iPlayer Desktop beta on Adobe AIR builds on an existing strategic relationship between the BBC and Adobe. The BBC iPlayer Desktop beta also integrates Adobe Flash Rights Management Server software for content protection.
Henk de Hooge
Henk is Internet Entrepreneur, founder van Dutchcowboys en daarnaast tech en travelblogger, fotograaf, visual storyteller en bovenal een digitale nomade....