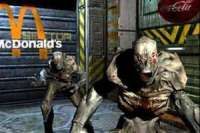 De bestedingen aan in-game advertising zullen over de $ 2 miljard gaan in 2012, aardige stijging ten opzichte van de $ 370 miljoen in 2006, volgens het Park Associates "Electronic Gaming in the Digital Home: Game Advertising" report.
Dat is een gemiddeld jaarlijks groeipercentage van 33%, hetgeen veel meer is dan andere belangrijke advertentietypes – inclusief het Internet.
"Advertising in electronic games had an average monthly household expenditure of less than 50 cents in 2006, while broadcast TV was at $37 dollar, meaning advertisers are not using the gaming medium to its full potential," aldus Yuanzhe (Michael) Cai van Parks Associates. "If executed correctly, game advertising can provide a win-win solution for advertisers, developers and publishers, console manufacturers, game portals, and gamers."
De advertising in videogames is nog vrij nieuw waardoor de stijging ineens fors kan zijn. Maar ondanks veel enthousiasme voor gameadvertising zijn de advertentiemodellen nog steeds aan het evolueren. Bovendien kan ook het gewenste bereik voor een bepaalde advertentie een uitdaging zijn.
Bijvoorbeeld: Xbox Live's Massive is een van de meest ontwikkelde in-game ad-placement systems, maar het bereikt natuurlijk alleen de bezitters van een Xbox 360.
Op eMarketer staat ook een interessant stuk over videogame advertising: Getting to the Next Level.
Jeroen de Hooge
Jeroen is al meer dan 15 jaar betrokken bij Dutchcowboys. Begonnen als content creator, en inmiddels verantwoordelijk voor de dagelijkse gang van zaken...