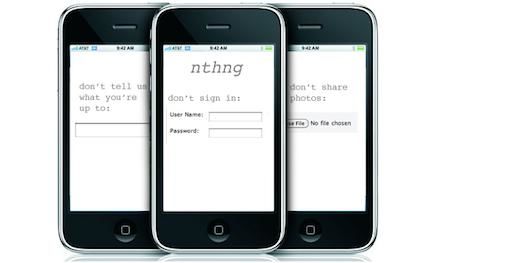 Speciaal omdat het vandaag in de VS de National Unfriend Day is er nu het nieuwe Social Network nthng.com . Wie zich niet aanmeld kan geen foto's sharen, heeft geen status-updates en hoeft geen vrienden te unfrienden. Voor iedereen die al van teveel Sociale Netwerken lid is is dit een geweldig alternatief "Nothing is better than something".

De uitleg van hoe nthng.com werkt : Simple: It doesn't. Just go to nthng.com and don't sign up, or don't download our app from the iTunes (TM) App (TM) Store (TM). Currently, nthng only works on the iPhone 3G.
De voordelen aka Non-status : Don't let everyone know what you're doing, and they won't comment on what you share. Perfect for those moments in life that you don't want to share with anyone, for any reason. Join Today !
Henk de Hooge
Henk is Internet Entrepreneur, founder van Dutchcowboys en daarnaast tech en travelblogger, fotograaf, visual storyteller en bovenal een digitale nomade....