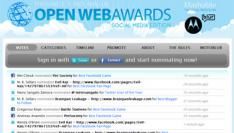 Bij de derde editie van Mashable's Open Web Awards de Social Media Edition zijn er inmiddels al meer dan 60.000 nominaties gedaan voor personen, bedrijven, websites en applicaties.

"Our annual contest highlighting the very best the web has to offer, is gaining momentum." Aldus Pete Cashmore. Bij de meeste categoriën is het verschil tussen de nummer 1 en 2 minder dan 50 stemmen. Nomineren kan nog tot 15 november. Van 18 november tot 13 december kan er gestemd worden op de top 5 nominaties in iedere categorie en op dinsdag 15 december zullen de winnaars bekend worden gemaakt voor ondermeer:

Best Brand Use of Youtube, Best Facebook App, Best Breaking News Site, Best Social Network iPhone App, Best Flickr Photographer, TwitPic of the Year en Tweet of the Year.
Jeroen de Hooge
Jeroen is al meer dan 15 jaar betrokken bij Dutchcowboys. Voornamelijk als digtial content creator. En dan voor alle titels van The Blogidea Factory. Behalve...