Het Franse Google blog Zorgloob heeft een grote, en nu klikbare map met alle Google Products.
"You can see popular services like Google News or more exotic ones like Google Music Trends, as well the different connections between these services."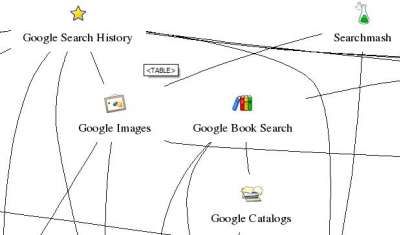 Elk product is gelinked aan een (Franse) pagina waar een beschrijving te vinden is over het product inclusief een rating, gerelateede producten en een url naar de site.
Als de map te groot is, en groot issie ;), dan is hier een normale lijst. Ik weet dat Google veel doet (en heeft) maar zoveel!
Voor de liefhebbers staat hier alles onder elkaar:
Google 3D Warehouse Google Accessible Search Google Account Authentication Google Accounts Google AdSense Google Adsense API Google Adwords Google Adwords API Google Adwords Editor Google AJAX API Google Alerts Google Analytics Google Answers Google Apps APIs Google Apps for your Domain Google Base Google Base API Google Blog Search Blogger Blogger Data API Google Book Search Google Browser Sync Google Calculator Google Calendar Google Calendar Data API Google Catalogs Google Checkout Google Checkout API Google Co-Op Google Code Google Code Search Google Code Search Data API Google Daohang Google Data API Google Desktop Google Desktop SDK Google Directory Google Docs & Spreadsheets Dodgeball Double Click Google Earth FeedBurner Google Finance Google Gadgets API Google Gears Gmail Grand Central Google Groups Hello Google Hot Trends iGoogle Google Images JotSpot Google KML API Google Labs Google Maps Google Maps API Google Mars Google Mashup Editor Measure Map Google Mini Google Mobile Google Music Search Google Music Trends Google News Google Notebook Google Notebook Data API Orkut Google Otvety Google Pack Google Page Creator Google Patents Google Phonebook Picasa Picasa Web Album Picasa Web Albums Data API Google Product Search Google Project Hosting Google Reader Google Related Links Google Safe Browsing API Google Scholar Google Search Appliance Google Search History Searchmash Google Sets Google SketchUp Google SMS Google SOAP Search API Google Special Searches Google Spreadsheets Data API Google Store Google Suggest Google Talk Google Toolbar Google Toolbar API Google Transit Google Translate Google Trends Google Video Google Video Player Google Video Uploader Google Voice Local Search Google Web Accelerator Google Web Toolkit Google Webmaster Central Google Websearch Google Wifi YouTube YouTube API Google Zeitgeist Zenter
Jeroen de Hooge
Jeroen is Managing Director van The Blogidea Factory, de online uitgever van ondermeer Dutchcowboys, Stylecowboys, Carrepublic & Eatly. Daarnaast is hij...