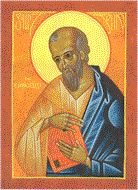 (Hier moeten we nog even een nieuw Nederlands woord voor vinden, maar aansluitend op het Word of Mouth stukje bedacht ik hier even 1k webspace aan te besteden)
Evangelists zijn de nieuwe ontwikkeling op marketing/pr gebied. In Nederland ken ik er geen, maar ik hou me aanbevolen. Het is eigenlijk een soort guerrilla marketing. Huur iemand in met als enige taak; mensen enthousiast maken voor je bedrijf.
Deze evangelist blogt natuurlijk, post belangrijke fora onder, laat overal zijn expert opinion horen waar hij maar kan, is de aangewezen persoon om een praatje te houden over een (vaak) technische ontwikkeling en is daarnaast sociaalvaardig. Hij vertelt veel over zijn eigen leven, zodat je het gevoel gaat krijgen dat het een echte vriend van je wordt en zo ga je hem gewoon geloven (en aanbidden). Klinkt eigenlijk best gevaarlijk…
Wikipedia's beschrijving: " By metaphorical extension, evangelism may also refer to any form of recruitment or spreading-the-word for a group or movement seen as ideological or committed: hence, for instance, open source evangelism. In the context of commercial enterprises which develop or foster a cult following and religious-like fanatacism, the term evangelist can become an unofficial or even an official role/title. This usage was pioneered by Guy Kawasaki in Apple Computer's marketing of the Apple Macintosh and later amplified and codified by Ben McConnell and Jackie Huba with their book, "Creating Customer Evangelists." "
Het is gezellig om met de evangelist in de kroeg te belanden en deze weet uiteindelijk vrijwel elk onderwerp terug te brengen naar de essentie; zijn technologie.
De 10 regels om een goede evangelist te zijn volgens Guy K.:
#1: Make Meaning. Create products and services that are designed for the higher purpose of making a difference in the world.
#2: Niche Thyself. Bring truly unique and great products to market. Avoid crap.
#3: Don't be Paranoid. Welcome and actively engage the early adopter freaks and outer fringe folks who embrace your product from the get-go.
#4: Localize the Pain. Personalize the meaning of your products and services by succinctly and compelling explaining how it will improve one's life.
#5: Let 100 Flowers Blossom. Don't force customers to use your products in a certain way. Encourage and facilitate customers to create new uses for your product.
#6: Look for Agnostics, not Atheists. Forsake atheists who will never believe. Instead, spend marketing dollars on agnostics who are neutral and can become believers.
#7: Enable Test Drives. Be generous and find ways to share your product so potential customers can experience it.
#8: Provide a Slippery Slope. Make your products and services easy-to-use. Never create barriers for adoption/acceptance by customers.
#9: Foster Team Spirit. Make customers feel part of the team. Enduring companies have a moral obligation to make customers a part of the 'family.'
#10: Don't Ask Anyone to Do Something You Wouldn't. Do unto your customers as you would have your customers do unto you.
#11: Be a Mensch. If you are a true evangelist … you have a moral obligation to share, to care, to service, and to give abundantly with the expectation your actions will make the world a better place.
Lijstje met evangelists om mijn logje verder te illustreren: - Guy Kawasaki - Apple Evangelist - Vint Cerf - Chief Internet Evangelist van Google - Jeff Sandquist - Microsoft Evangelist - Omar Tazi – Oracle Evangelist - Jeff Kallay - ?Experience Economy Evangelist?
Er zijn er natuurlijk nog veel meer, want goed voorbeeld doet volgen. Van nu af aan ben ik ook Evangelist.