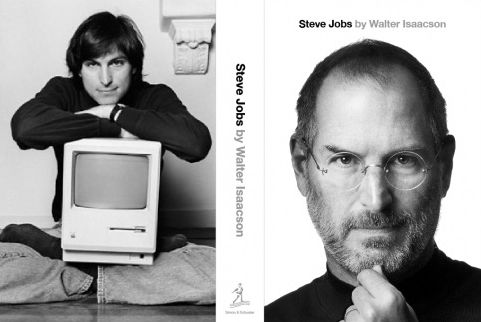 Al voordat gisteren bekend werd dat Steve Jobs' officiële biografie uit de pen van Walter Isaacson een maand eerder uit zou komen, had ik het boek alvast gereserveerd. In eerste instantie vond ik het heel vreemd dat de toch altijd gereserveerde Steve open stond voor het uitbrengen van een biografie over zijn leven. Uit een stuk van Isaacson dat deze week  in Time Magazine verscheen bleek de verklaring uit een citaat van Steve zelf: "I wanted my kids to know me."
A few weeks ago, I visited Jobs for the last time in his Palo Alto, Calif., home. He had moved to a downstairs bedroom because he was too weak to go up and down stairs. He was curled up in some pain, but his mind was still sharp and his humor vibrant. We talked about his childhood, and he gave me some pictures of his father and family to use in my biography. As a writer, I was used to being detached, but I was hit by a wave of sadness as I tried to say goodbye. In order to mask my emotion, I asked the one question that was still puzzling me: Why had he been so eager, during close to 50 interviews and conversations over the course of two years, to open up so much for a book when he was usually so private? "I wanted my kids to know me," he said. "I wasn't always there for them, and I wanted them to know why and to understand what I did."
Walter Isaacson, Time Magazine
Eelijk gezegd ben ik normaal gesproken niet zo van de biografieën. Dit is de eerste die ik aanschaf, waarschijnlijk doordat ik nieuwsgierig ben geworden naar de man achter Apple en zijn visie. Niet alleen iemand die aan het roer stond van een miljardenbedrijf dat mijn favoriete gadgets bedacht, ook een man die mensen om hem heen tot wanhoop wist te drijven.
Op Bol.com is inmiddels een voorpublicatie (pdf) vrijgegeven die meer inzicht geeft in wat we van de biografie mogen verwachten.
Het boek getiteld 'Steve Jobs' is verkrijgbaar in zowel een Nederlandse, UK als VS editie en verschijnt op 24 oktober. Waar? Onder andere bij Amazon en Bol.
Meer content