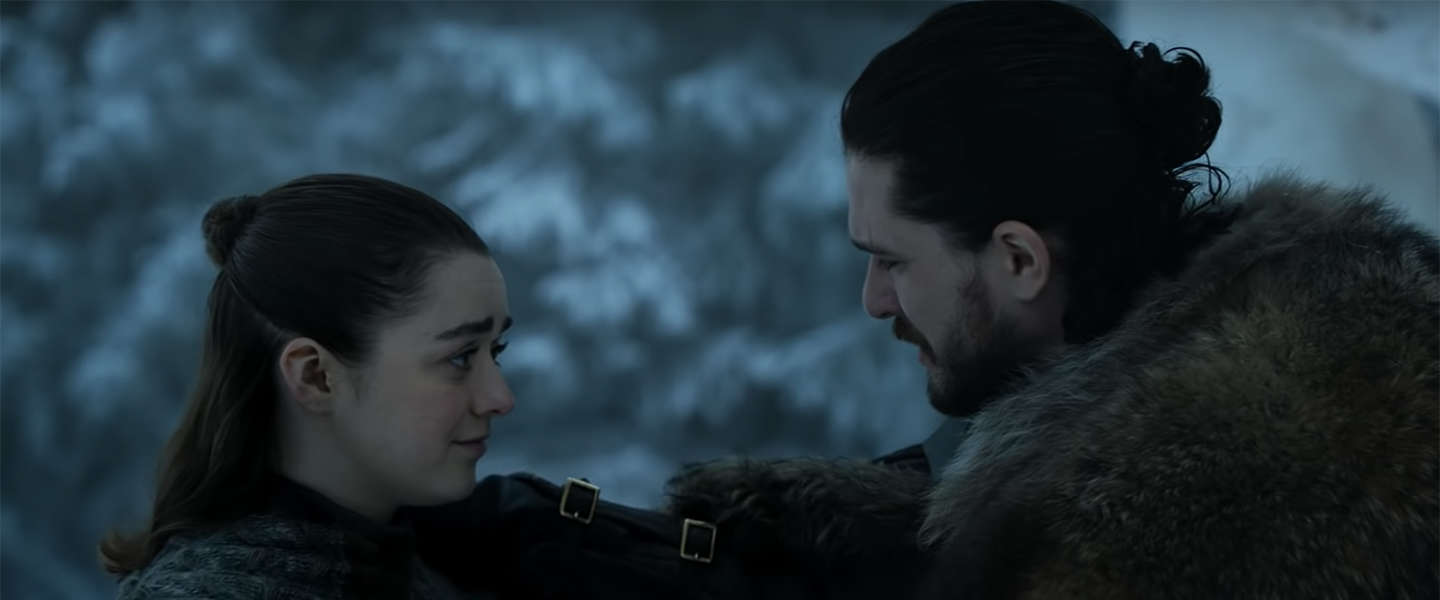 De populariteit van Game of Thrones: miljoenen tweets & downloads
Vorig artikel
Volgend artikel
27 augustus 2017 lijkt alweer een eeuwigheid geleden. Maar dat was de dag waarop de seizoensfinale van Game of Thrones seizoen 7 in premiére ging. Fans hebben dus ruim 1,5 jaar moeten wachten op het langverwachte vervolg van het verhaal in Westeros. Niet geheel onverwacht zorgde dit gisteren, vandaag en waarschijnlijk nog de komende 6 weken voor heel veel discussie. Zo was met meer dan 5 miljoen tweets de nieuwste Game of Thrones aflevering gelijk de meest getweette aflevering ooit. Na de show gingen alle top 10 wereldwijde Twitter-trends over deze aflevering.
Top 10 wereldwijde Twitter-trends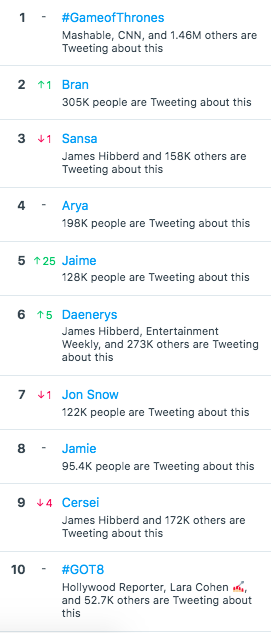 Game of Thrones downloads
Maar niet alleen op Twitter was Game of Thrones trending. In Amerika waren er ruim 17 miljoen kijkers naar de seizoensopener van een van de populairste series ooit. Cijfers over Nederland / Europa zijn nog niet bekend.
Game of Thrones is verder ook al jaren een van de meest illegaal gedownloade series. Dat zal dit jaar niet anders zijn. De aflevering werd ook weer volop gedeeld via The Pirate Bay & Co. De dag na de uitzending waren er zo'n 120.000 BitTorrent gebruikers die de aflevering aan het delen waren. Maar dat is slechts een topje van de ijsberg. Steeds vaker maken we gebruik van streaming sites en diensten, waarbij het veel lastiger is om statistieken te achterhalen. Dus dit zal weer in de vele miljoenen lopen.
Torrentfreak wist te melden dat de aflevering al te downloaden was voordat deze officieel beschikbaar was in een heel aantal landen (waaronder Nederland.) Iets dat ook niet meehelpt om het illegaal downloaden tegen te gaan! In 2018 was The Walking Dead de meest illegaal gedownloade serie. Alles lijkt er nu alweer op dat Game of Thrones deze titel in 2019 in de wacht zal gaan slepen.
#GOT & #GameofThrones
Even terug naar Twitter. Daar was het voor fans genieten. Leden van de cast tweeten volop mee. Alle denkbare hashtags waren trending. Voor iedereen die de aflevering nog niet gezien heeft, natuurlijk ook volop spoilers. Maar het geeft eens te meer aan hoe populair de serie van HBO is. Hieronder een overzicht van de leukste tweets rondom Game of Thrones.
Meer content