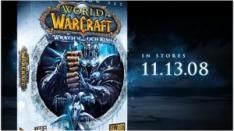 Het was al een tijdje speculeren wanneer de volgende uitbreiding van het populaire World of Warcraft in de schappen zou liggen. Vandaag heeft Blizzard bekend gemaakt dat de nieuwe expansion op 13 november zowel in Europa als in Amerika zal verschijnen.

De game verschijnt voor Windows XP/Vista en Macintosh in twee uitvoeringen: een standaard editie en een speciale Collector's Edition, welke alleen in bepaalde regio's uitgebracht zal worden.
"We're looking forward to launching Wrath of the Lich King and finally giving World of Warcraft players a chance to take on Arthas and his minions," aldus Mike Morhaime, CEO en Cofounder van Blizzard Entertainment. "Until then, we'll continue to refine and playtest the expansion content to make sure it provides a highly polished and entertaining experience."

Meer info over de uitbreiding is hier te vinden.
Jeroen de Hooge
Jeroen is Managing Director van The Blogidea Factory, de online uitgever van ondermeer Dutchcowboys, Stylecowboys, Carrepublic & Eatly. Daarnaast is hij...